BINAH: The Sphere Of Understanding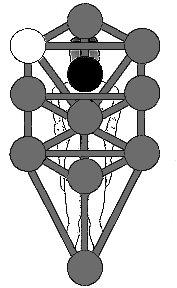 DEFINITION:
Identified in Kaballah as "the Sephirah Binah" this sphere of energy encompasses the Left Eye, Ear, Nostril, Temple and skull-area; any or all of which can become 'sore' or traumatized by A CRISIS IN UNDERSTANDING THE FACTS of one's current life-situation.
All Binah-related crises "mean" that ONE DOES NOT YET HAVE A FULL GRASP ON THE REAL FACTS of one's life-situation. Sometimes, this can be something as simple as a complex problem one is researching, a new job or project that requires us to learn a lot of new facts, or it can have to do with something far more important.. like A WHOLE NEW PHASE OF PERSONAL DISCOVERY, requiring us to 're-learn' almost everything we thought we already knew about ourselves.
A good way to begin dealing with Binah-related crises is to ask a few simple questions:
WHAT HAVE YOU BEEN TRYING TO UNDERSTAND, BUT STILL HAVE ON YOUR MIND?
WHAT IS GOING ON IN YOUR LIFE THAT IS COMPLETELY NEW TO YOU RIGHT NOW?
WHAT ARE YOU GOING TO DO WITH THE NEW INFORMATION YOU'VE BEEN RECEIVING?
Once you have gotten a grip on the general subject-area of the Understanding-Crisis, you can begin planning-out how to INTEGRATE that new information.. which means HOW TO TAKE ACTION ON IT, and turn the now-understood Information into EFFECTIVE ACTION.
Like all Branches of The Tree Of Life, Binah connects us with FOUR LEVELS of the Spiritual Hierarchy or "chain of command." Anytime your search for Holistic Synthesis or Wholeness points to this Sephirah, there is a strong probability that YOU WILL NEED TO CONTACT THIS CHAIN OF COMMAND IN SOME WAY before your crisis or problem will resolve itself completely. The Four Levels of this Branch Of Life are:
ASSIAH: The PHYSICAL Level.
The Physical Level of Hierarchy in all Sephiroth is the same; ASTROLOGICAL INFLUENCES and/or THE "I CHING" LIFE-CALENDAR. For any event involving this Sephirah that began suddenly and has not diminished since then, the Life-Calendar is probably the source of the influence; you should be able to see the pattern clearly (including when to expect it to end) by reading the Year-Hexagram from that Calendar. Any PROCESS that seems to be EVOLVING into ever-changing forms over a long period of time is probably due to ASTROLOGICAL CHANGES affecting one's place in the world around you, as reflected by Planetary Changes. Note that you will need both a Natal (Birth) Horoscope AND a Transit Chart for the current year, in order to understand these Planetary Cycles. The Planet SATURN directly governs this Sephirah in Astrology.
YETZIRAH: The PSYCHIC-SCIENCES Level.
The Science of Binah can be summed-up as TIMING and LOCATION. Binah is identical to 'the continuum' of modern physics, which equates Time and Space as part of one great principle. That principle is Binah; the Sphere of Understanding. Every Binah-related issue 'means' that YOU MUST AWAIT THE RIGHT TIME for a change that is needed; OR that YOU MUST GO TO THE RIGHT PLACE for the change to occur.
To solve Binah-crises, you must somehow discover which of those two it IS; consider both possibilities until you get clarity. Try asking; could you solve this problem by being somewhere else?.. or would the problem go with you? If you cannot 'escape' the situation, then it is clearly a matter of TIMING; and (like a woman who is pregnant for nine months before her 'problem' can end) you will simply have to WAIT until the time is right for the situation to end.
Sometimes the Place-change required by Binah can be as simple as periodic 'breaks' from your usual environments; a visit to one specific place such as a doctor, dentist, lawyer of counselor's office (you will normally know which!;) or even encouraging someone ELSE in your environment to clear your shared Space of it's crisis-tensions. A little THOUGHT and COMMUNICATION usually answers these questions.
BRIAH: The ARCHANGELIC Level.
Most western societies know of the great "Spiritual Intermediaries" who caretake our relationship with the Great Spirit, and refer to them as "Archangels." Asian societies normally call them "Bodhisattvas" and will need to turn to their own cultural traditions for guidance in contacting the right Bodhisattva for their Binah-related problems.. though ANYONE can call upon ANY Spiritual Authority and get useful results. The Archangel of Binah is named "Tzaphkiel," and he connects us with our Creator in the form called "Aloath Elohim" which is Hebrew for 'Mother Of Mothers' or THE GREAT MOTHER.
The Angelic Order (or lineage of Devic Spirit-Workers, if you prefer) who serve this Sephirah are called the "ARALIM" which means 'Builder Of Thrones;' and it is their job to help each soul build for themselves a personal 'Kingdom' within Reality, built of the raw materials we contain within ourselves. When you contact the Archangel Tzaphkiel and his "boss" Aloath Elohim, what actually happens in consequence is that your OWN Aralim-forces are set in motion to build or improve-upon your "throne" of self-attainment, or Mastery.
To contact the Archangel of Understanding in the most direct way possible, jot-down the names just mentioned and then click-on KABALLAH-CIRCLE RITES where a reliable, long-used Ritual Meditation is listed.. and simply perform it as shown, inserting the proper names where prompted. This will trigger as much immediate Spiritual HELP for your problem or crisis as possible right now.
Repeated contact with this Archangel (asking each time for yet MORE clarity of Understanding and more help with solving the specific details of your crisis or condition) over a period of days or weeks may prove extremely useful.. though there may still be TIME and LOCATIONS that you will have to wait-for or bring-about in order to finally end your Binah-related problem.
ATZILUTH: The GOD-ASPECT Level.
The "Aspect" or FORM of the Great Spirit connected with Binah is Aloath Elohim, who caretakes the Spiritual Principle of WHO WE WERE BORN TO BE, and how to attain that. Binah-related crises may require you to study the entire section on 'Personal Identity' in THE METAPHYSICAL SECTION of this Manual.. looking for which of the five 'elements of Self' you are currently in need of integrating.
Called NEPHTHYS in the ancient Egyptian "paut Neteru" or Great Company of the Gods.. and considered the goddess of "Providence" and compassionate service.. the God-Aspect of Binah has always been associated with the "sincere offerings" of Spirit to Man and Man to Spirit. You may think of Nephthys/Aloath Elohim as SPIRITUALITY itself, requiring both Understanding and Compassion to fully comprehend.
Since Binah means UNDERSTANDING, we must come to Understand OURSELF fully before we can really learn the lesson that our Binah-related crises are pointing-out. And yes; this can take TIME!.. one of the specialties of this powerful Sephirah; but in the end, understanding one's Spiritual Identity is worth the effort AND the pain of whatever trauma the Great Mother has needed to use in getting you to pay careful ATTENTION to self-discovery.
---
---